Former NBA star Dennis Rodman became an emotional wreck during live television discussion on the historic summit between Donald Trump and Kim Jong-un Tuesday morning.
Rodman spoke with CNN's Chris Cuomo, wiping away tears as he talked about how he always believed the summit would take place.
Rodman, who has oddly been friendly with Jong-un for years, also broke into a sob as he outlined his previous trips to the rogue nation.
The basketball star, who is currently visiting Singapore, confessed: "I got so many death threats. I believed in North Korea and when I came home I couldn't even go home. I had to hide out for 30 days. But I kept my head up high. I knew things were going to change. I was the only one."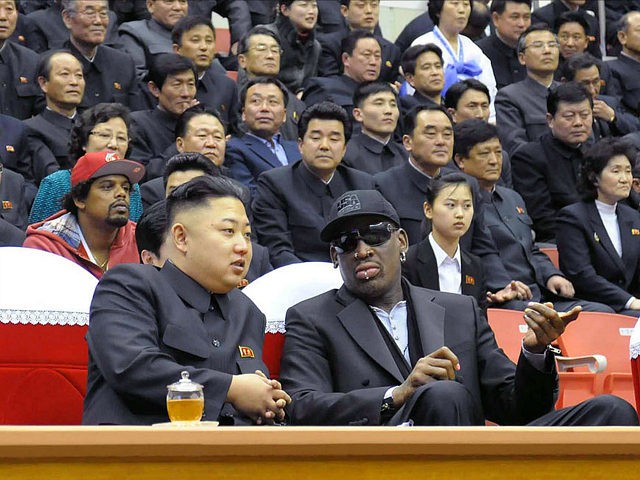 Rodman, who had on a "Make America Great Again" baseball cap for the bizarre interview, admitted that he was "so happy" to be in singapore while the summit took place.
He also called Jong-un a "great friend" thus completely forgetting that the dictator has admitted to assassinating his own family members.
Rodman stated, "I don't want to see that, I want to see it go away… I want to see us get along. Have a handshake, have a smile, have a glass of iced tea. I don't need to worry about the war stuff, I don't know anything about that."
Speaking with CNN's @chriscuomo while wearing a "Make America Great Again" hat, former NBA star @dennisrodman describes his relationship with North Korean leader Kim Jong Un and his hopes for the country https://t.co/oaMBT2GQ3n pic.twitter.com/YjNf7ZI9Ky

— Cuomo Prime Time (@CuomoPrimeTime) June 12, 2018
COMMENT BELOW
LET US KNOW WHAT YOU THINK